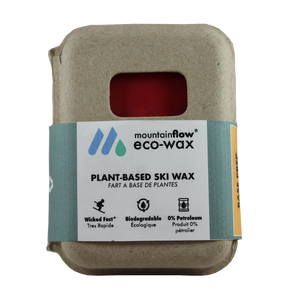 mountainFLOW Wholesale
Hot Wax: Base Prep | CASE = 12 Bars | Size = 130g/Bar [RETAIL]
Log in to view price
Our specially formulated, plant-based base preparation wax is a must-have for any comprehensive wax kit.
Case Pack = 12 Bars
Size/Unit = 130g/Bar
Deep Base Penetration: This wax has been designed with smaller wax molecules that can penetrate deep into the base of skis or snowboards, where normal wax simply couldn't fit.
Base Conditioner: After a fresh stone grind, it is highly recommended to saturate your bases with our Base Prep wax. 
Improve "Wax of the Day" Performance: Our Base Prep wax will bind well to your top coat or "Wax of the Day". This helps your top coat wax to last longer.
Base Cleaner - Hot Scrape: Most wax experts agree that a hot scrape is the best technique to remove old wax and truly clean your bases. 
Travel + Storage: Don't leave your bases naked to the environment! When traveling or storing skis/boards for an extended period of time, a thick layer of our Base Prep wax will protect your bases and make sure they're happy when it's time to rip!
Plant-Based + Biodegradable


0% Petroleum
*100% Stoke Guarantee - If you're not totally stoked on our wax products you can return em', no questions asked.
---